My Blog
Posts for tag: pediatric dentistry
By Owosso Dental Center
March 03, 2019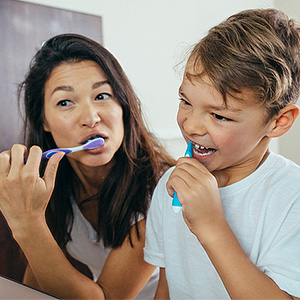 Your child's oral development generates considerable changes during their "growing up" years. There are a number of things you can do to help support their development—but also things you shouldn't.
Here are 4 things not to do if you want your child to develop healthy teeth and gums.
Neglect daily oral hygiene. To set the best long-term course for optimum oral health, begin cleaning the inside of your child's mouth even before they have teeth. Simply use a clean wet washcloth to wipe their gums after feeding to reduce bacterial growth. Once you begin seeing teeth, start brushing them every day with just a smear of toothpaste; at about age 2 you can increase that to a pea-sized amount. And don't forget to teach them when they're ready to brush and floss on their own!
Allow unlimited sugar consumption. Besides the effect it has on overall health, sugar is also a prime food source for disease-causing oral bacteria. You can reduce the sugar available for bacterial growth by avoiding sugary snacks and limiting sweet foods to meal times. Less sugar means less bacterial growth—and a lower risk of tooth decay for your child.
Put them to bed with a sugary liquid-filled bottle.  Although a bedtime bottle may help calm your baby to sleep, it could also increase their risk of tooth decay. Allowing them to sip on sugar-filled liquids like juice, milk, formula or even breast milk encourages bacterial growth. Bacteria in turn produce acid, which can dissolve the minerals in enamel and open the door to tooth decay. Sipping through the night also deprives saliva of adequate time to neutralize acid.
Wait on dental visits until they're older. Dental and pediatric associations all recommend first taking your child to the dentist sooner rather than later—by their first birthday. Starting dental visits early will help you stay ahead of any developing tooth decay or other oral problems. And just as important, your child will have an easier time "warming up" to the dental office environment at a younger age than if you wait. Dental visit anxiety, on the other hand, could continue into adulthood and interfere with regular dental care.
If you would like more information on the best dental care practices for your child, please contact us or schedule an appointment for a consultation. You can also learn more about this topic by reading the Dear Doctor magazine article "Top 10 Oral Health Tips for Children."
By Owosso Dental Center
February 23, 2018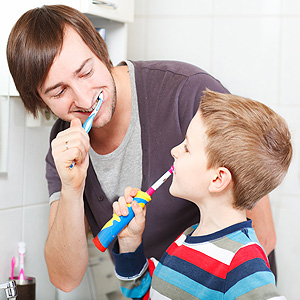 February marks National Children's Dental Health Month. It's important for children to form daily oral hygiene habits early, but how do you get little ones to take care of their teeth? Try these tips:
Describe your actions. When children are too young to brush on their own, gently brush their teeth for them, narrating as you go so they learn what toothbrushing entails. For example, "Brush, brush, brush, but not too hard," or "Smile big. Let's get the front teeth. Now let's get the teeth in the very back."
Make learning fun. Around age 3, children can start learning to brush their own teeth. To model proper technique, play follow the leader as you and your child brush teeth side by side, making sure to get all tooth surfaces. Then you both can swish and spit. After brushing together, brush your child's teeth again to make sure hard-to-reach surfaces are clean. Note that children generally need help brushing until at least age 6.
Encourage ownership and pride. Children feel more invested in their oral health when they get to pick out their own supplies, such as a toothbrush with their favorite character and toothpaste in a kid-friendly flavor. To boost pride in a job well done, reward your child with a sticker or star after they brush their teeth.
Keep your child brushing for two minutes. According to the American Dental Association, toothbrushing should be a two-minute task. To pass the time, play a favorite song or download a tooth-brushing app designed to keep kids brushing the recommended two minutes. For increased motivation, electric toothbrushes for children often have a built-in two-minute timer as well as appealing characters, lights and sounds.
And don't forget one more key to a lifetime of good oral health—regular dental visits. If you have questions about your child's dental hygiene or if it's time to schedule a dental visit, please contact our office. To learn more, read the Dear Doctor magazine articles "Dentistry & Oral Health for Children" and "Top 10 Oral Health Tips for Children."